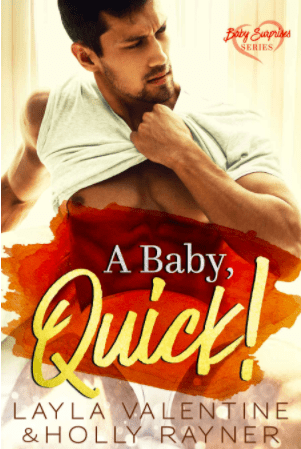 Published:

January 15, 2019
Buy on Amazon.com
Buy on Amazon.co.uk
He never thought he'd be a father
But now he needs a baby, quick!
JUSTIN:
I'm a busy man,
I don't have time for a relationship,
So when I learned that the hot-as-hell woman I'd just gotten with had a baby…
Well, I got out of there quick.
But now the tables have turned:
I'm the star of a new reality show, putting me, the billionaire, in the place of a new father,
And the mother and child we chose have pulled out.
I need a baby, quick,
And she might be the only option I have…
HEATHER:
He was gorgeous, charming, witty, and filthy rich,
And of course, he broke my heart.
Weeks later, he's back with a last-minute offer:
He wants me and my darling daughter to star alongside him,
And the amount he's willing to pay? Well, I'd be insane to turn him down.
I can't deny I find this guy irresistible
But I can do this without falling for him all over again, right?
A Baby, Quick! is the third book in the Baby Surprises series.