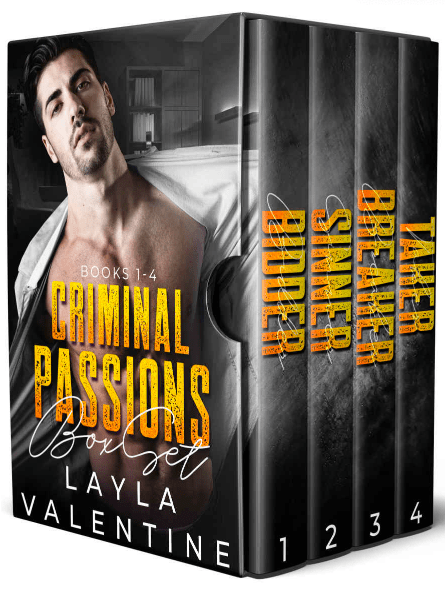 Published:

August 9, 2020
Buy on Amazon.com
Buy on Amazon.co.uk
A 4 book box set of spicy romance novels.
This is a mouth-wateringly romantic box set from Layla Valentine. It's filled with five engrossing tales of bad boys, billionaires and the audacious women they fall for!
Bidder:
Kidnapped, imprisoned, and put up for sale
Auctioned off, to a billionaire bidder…
This really isn't how I saw my vacation working out!
Quitting my job to travel the world was my lifelong dream, and I was living it…
Until I was kidnapped, bundled into darkness, and found myself on sale at auction!
Suddenly, I'm at the mercy of my billionaire buyer: Logan Denton, a man who's as gorgeous as he is mysterious.
He tells me I'm a pawn in a bigger game, and in the face of his smoldering good looks, my attempts to keep my distance soon prove futile.
This ain't Stockholm syndrome—it's the real deal.
I've got the hots for the man who bought me!
Sinner:
I'm a thief. I'm a Sinner.
And soon I'm gonna be a new daddy…
Sure, I'm a sinner
But I'm the Robin Hood of criminals—I only steal from other baddies.
I grew up with nothing
And now I steal to give my family everything
Meeting Viv Thomas – the bombshell brunette – opened my eyes, and made me realize.
I want more. I want a real life. I want her.
She deserves an honest man
So I decided to tie up loose ends.
One more job: a diamond heist. And then I'm out of the game for good.
But it's all gone wrong
And they stole Viv away from me
Along with our unborn baby…
I'll get them back
Or die trying.
Breaker:
She needs a fake boyfriend,
But this guy? He's a little too qualified.
I'm a con man; a breaker of banks, and hearts.
And she's a girl in need of a boyfriend, if only for show.
The moment we met, I made her my mark.
Sure, I'd play the charming, wealthy boyfriend for her parents.
All while planning a bigger scheme of my own.
So why can't I go through with it?
I've always been a heartbreaker, and I'm damned good at what I do.
But I've got something else in mind for this one.
I don't want to con her,
I'm gonna make her mine.
Taker:
He stole me away, and now he's my only hope
On the run with the bad boy and his son –
And our story gets crazier
I'm pregnant with his baby!
In the wrong place at the wrong time, I saw something I never should have seen
The people responsible aren't happy to have a witness running around
Enter Tate Dale, the man sent to deliver me to my fate
Only he doesn't kill me; instead, he takes me with him, along with his kid
He tells me he's the only one who can protect me,
Sure as sin, one thing soon leads to another…
And now, weeks into our new lives on the run, I find I'm pregnant
He's stunning, gorgeous, irresistible; but can I trust him with my life?
Can we survive the baddies out to get us?
Can we be a family?