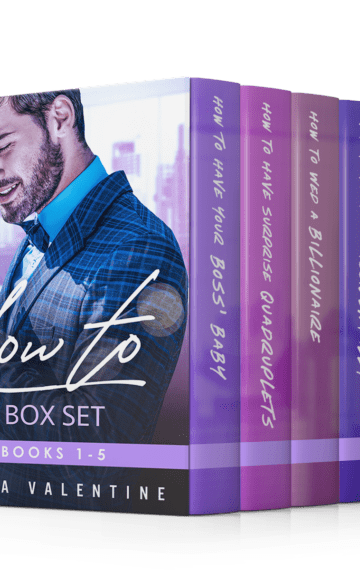 Buy on Amazon.com
Buy on Amazon.co.uk
A 5 book box set of spicy romance novels.
This is a deliciously romantic box set from Layla Valentine. It's filled with five enthralling tales of billionaires, rockstar hunks, and the lucky and daring women they fall for!
How To Have Your Boss' Baby:
You've had it with your job,
You've had it with your boss,
You need to escape.
So what do you do?
You have your boss's baby…
How To Have Surprise Quadruplets:
He's the red-hot rockstar with a secret
Even if he doesn't know it yet…
I've got a shocking surprise for him
Quadruplets, and they're his!
How To Wed a Billionaire:
He's the kind of guy every gal dreams about…
Devilishly gorgeous, irresistibly charming, outrageously rich, and up to now, unattainable.
So how do you wed a billionaire?
Especially one you've only just met?
How To Propose Accidentally:
I'll lie to her, I'll use her, and I'll… marry her?!
Sure, the proposal was accidental
But once I make her mine, can I really bring myself to let her go?
How To Fall For Your Worst Enemy:
How do you fall for your worst enemy?
One bitter fantasy, one frustrated glance, and one stolen kiss at a time